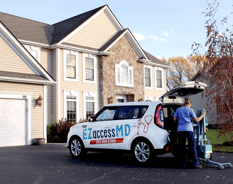 Mobile healthcare offers services for businesses that a primary care provider simply cannot compete with. They save time and money and offer state-of-the-art benefits to employees. Here's a look at the value of mobile healthcare.
Give employees access to advanced medical tests and equipment
Frequently, patients go to the emergency room because there is no other option available; their primary care doctor is not open on the weekend, and an urgent care clinic is already closed. Instead of heading to the emergency room with long wait times and high costs, calling a mobile healthcare provider can give them immediate access to high-quality care.
With providers like EZaccessMD, mobile healthcare can quickly bring lab testing, ultrasounds, EKGs — all of the most state-of-the-art equipment — into an employee's home. In fact, even though x-rays have been around for over 100 years, portable x-ray systems are an innovative new technology. EZaccessMD brings this advanced technology right into an employee's living room; technicians are able to do x-rays with their mobile urgent care unit.
A mobile healthcare option, like EZaccessMD, is available every day of the year at any hour of the day and can arrive within two hours of contacting them. Having this kind of cutting-edge care gives employees detailed information about their health.
Answer medical questions any time, anywhere
While it would be incredibly convenient for health issues to present themself between the hours of nine and five, symptoms typically begin outside normal business hours. An employee might begin to feel sick right after work and wonder if they are contagious and need to stay home from work the next day, or if they can simply take over-the-counter medication and wake up feeling better.
The convenience of telemedicine care creates an environment in which employees have an easy-access supplement to their primary care provider. When a primary care physician isn't available, a virtual doctor is available. For most illnesses or health issues, the faster treatment is started, the faster healing begins — an employee's timeline for their episode of care can be dramatically decreased with the help of telemedicine providers. Quick answers can lead to quick recoveries.
Keep business running smoothly
An easy way to keep employees healthy is to offer regular health screenings. These screenings help employees engage in preventative care for potential health problems, which lowers the time off of missed work and cuts down future expensive medical costs. With mobile healthcare, screenings can be done at the workplace to cut down on time off for medical visits.
This also has the benefit of cutting out overtime spent on medical visits. Instead of an employee taking the time to drive to get preventative medical care, they can gain time back by having a mobile healthcare provider come to their place of business instead.
Attract top-rate employees with a healthy workplace
More than ever, employees are interested in workplaces that are focused on employee health. With the shift in the workforce from baby boomers to millennials, employees are looking for businesses that invest in their health and happiness as much as they invest in their business productivity.
The convenience of having in-home, mobile care helps employees consistently engage in their health — a benefit many employees are looking for as they enter a company. Offering both telemedicine and mobile healthcare signals that a company is interested in the needs of its employees and cares about easy access to great healthcare.
Having these kinds of healthcare options create a great opportunity to attract phenomenal applicants — the type of applicant who feels taken care of by their employer and who's more apt to be a high performer because they see that their wellbeing is a high priority to the company.
EZaccessMD offers superior mobile healthcare for any business
Your workforce may be one of your most valuable assets for any company — their health truly impacts the effectiveness of a business. Create a productive, loyal, passionate, and healthy workforce with mobile healthcare. The benefit is for everyone. Employees want this type of convenient health service from their employers, and mobile healthcare saves a business both time and money.
EZaccessMD offers employers and employees comprehensive, convenient care. Learn more about EZaccessMD.