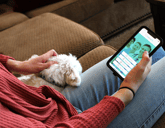 Telemedicine was already on the rise before March 2020, when the American healthcare system technologically expanded at exponential rates in order to serve patients during the COVID-19 pandemic.
According to consumer research done by Huron in late 2019, 35% to 40% of consumers were interested in telemedicine. With the onset of the COVID-19 pandemic, consumers' interests in healthcare from home have only increased. Statistics now indicate that as a result of the Coronavirus, up to $250 billion of U.S. healthcare spending could come from virtual medicine. Telemedicine is on a massive growth curve. Currently, the industry is worth more than $66 billion, according to a report by Mordor Intelligence.
Let's further explore some of the trends driving this incredible growth.
More doctors and patients are using telemedicine
Virtual doctors and healthcare practitioners provided 50 to 175 times the number of telemedicine visits this past year than they did in previous years. Over the past two years, physicians who use telemedicine grew by 18% according to The Physicians Foundation's "2018 Survey of America's Physicians" — this means close to half of doctors are now using virtual technology to deliver care.
Patients are engaged in this growing trend as well. A study published in The American Journal of Managed Care revealed that patients highly rated their experience using virtual visits and that "the majority would recommend them to family and friends."
Healthcare technology is developing rapidly with greater security
As the industry moves rapidly toward remote doctor visits, the technology surrounding virtual healthcare is booming — particularly with app development based on a patient's individualized care.
EZaccessMD has created a telemedicine app that offers time-efficient services, personal record-keeping, and more accessibility to a healthcare provider. All of this important information needs to be highly secure, in keeping with HIPPA privacy laws for confidential health information. Cybersecurity is a basic function of telemedicine care. Because data breaches are so costly, the telemedicine industry continues to develop strong security measures to keep patient information secure.
Student medical training now includes telemedicine training
Today's medical students grew up with technology, and medical schools are now teaching new and innovative ways for medical professionals to connect through virtual medicine. In the future, these healthcare professionals can take their experience in-person to help develop innovative solutions for expanded telehealth programs.
This new approach to the doctor-patient relationship also allows for greater flexibility for medical professionals. A new younger generation of healthcare providers will continue the trend of small community-based healthcare as opposed to large hospital complexes. Telemedicine offers flexibility and the decreased need for large healthcare facilities.
Telemedicine is beginning to include mobile, in-home health services
EZaccessMD is the only telemedicine provider offering both virtual doctor visits with comprehensive, convenient care that comes to the patient's home or workplace. EZaccessMD has created a program in which a member can consult with a doctor in minutes, and then, in under two hours, Mobile Urgent Care comes to the patient for lab tests, X-Rays, ultrasounds, EKGs, and more.