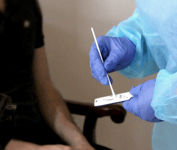 Telemedicine has become one of the most versatile ways a patient can engage in healthcare services.
According to a study conducted by the Harris Poll, 83% of people surveyed had never used telemedicine before the pandemic. That same study also showed that most Americans plan to continue using telemedicine as a part of their healthcare in the future.
If that is the case, then it is important to make sure that telemedicine providers offer thorough and accurate care. Many patients new to virtual healthcare worry that using a telemedicine provider does not offer the same level of care as an in-person visit or is less reliable.
Some Telemedicine Providers Cut Corners
Virtual healthcare encompasses a variety of technology-based medical care — from talking with a physician on the phone to accessing treatment options through an online portal to getting a prescription after a real-time virtual appointment.
All of these options are creating new opportunities for patients to gain access to faster, more affordable care. It is imperative that patients receive the same level of care through these new technologies as they would for an in-person visit. Yet, not all telemedicine providers offer that high level of care. Some telemedicine providers cut corners.
Data shows that one of the largest telemedicine providers fails to order an ankle X-ray in 85% of cases where standard care for ankle pain would require the patient to get an X-ray. With that, a patient is left dealing with pain longer than necessary. Eventually, this can lead to more damage to the bone and require even more specialized treatment.
Why Use of Telemedicine May Diminish & What to Do Instead
Because some telemedicine providers do not offer complete virtual healthcare services, employers may find that their employees do not utilize this service. Their employees are worried about the reliability of telemedicine — does it offer the same level of care as an in-person visit?
EZaccessMD delivers high-quality care and does not cut corners when it comes to diagnosing patients because they have the ability to provide:
In-home lab tests (such as flu, strep, urinalysis, and COVID-19)
In-home X-rays and ultrasounds
Ear, nose, and throat exams in the comfort of your home
Mobile EKG and echocardiogram
Accurate prescriptions from having diagnostic testing done first
With mobile urgent care, EZaccessMD provides complete telemedicine
Patients can speak with a U.S. Board Certified Physician in twenty minutes, and they will receive a personalized treatment plan as well as a prescription for medication if necessary. When a doctor decides they need more information to diagnose a patient accurately, a mobile unit is ordered to go to the patient's home within two hours. They even bring the lab equipment to a patient's bedside; results are immediate and in your home.
With EZaccessMD, patients can trust that they are receiving the same high-quality care that they would receive from an in-person visit. EZaccessMD brings healthcare professionals to the individual with outstanding telemedicine healthcare experience, combined with mobile care inside the home for a quick and accurate diagnosis. Learn more about EZaccessMD here.