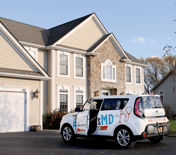 Over the past 30 years that telehealth has been developed and in use, it has consistently proved to be a high-quality approach to healthcare. It is the most convenient use of time available to both patients and doctors, and with new, secure technologies, it is also one of the best ways to have personal health information securely collected and communicated.
With these combined services, telemedicine is able to provide greater access to quality healthcare for all communities. Whether you live in the city or a rural location, telemedicine is the innovative leader in giving all Americans access to excellent resources to care for their health.
Patient-Centered Quality Healthcare
Telemedicine programs have the ability to improve healthcare access through the use of technology by bringing a doctor's appointment straight into an employee's home. Using a telemedicine service, a patient can consult with a doctor, receive a diagnosis or a treatment plan, and obtain prescriptions.
According to the American Telemedicine Association, "Studies have consistently shown that the quality of healthcare services delivered via telehealth is as good as those given in traditional in-person consultations."
Through the use of technology, time and location are no longer barriers to accessing excellent healthcare. Telemedicine is innovating the healthcare system by creating access to affordable, safe, and effective care whenever a patient needs it and wherever a patient is located. Care is no longer geographically bound, and it has created a huge reduction in time with virtual visits.
Expanded Use of Healthcare Services
Because telemedicine offers increased access to both primary care and urgent care needs, employees are given the ability to increase their use of health care services. With the ease of use and less time waiting and traveling to appointments, many patients are more willing to stay engaged in preventative and curative care. When healthcare happens in an employee's own home, there is a greater ability to use it more readily and frequently.
When we see a shortage of medical providers, telemedicine creates an unprecedented opportunity to provide healthcare to millions of people in all different types of environments — rural, urban, suburban, and all communities in between. Healthcare professionals can see more patients in a day with virtual doctor's visits than in-person visits, and patients can have greater access to a health care provider without driving across town.
There also appears to be a greater cost efficiency with telehealth services. According to the Journal of Law and Biosciences, "Recent advances in broadband internet access, internet of things devices, electronic health records, and advanced data analytics have created a surge in both the capability and the cost efficiency of telehealth services."
The lower cost of telemedicine care is a benefit to both employers and employees. Many of the concerns with healthcare today are the rising cost of care which keeps patients from engaging in preventative care or waiting too long to see a doctor and ending up in a high-cost emergency room situation; telemedicine is innovating new ways to create excellent care at a more affordable cost.
EZaccessMD Delivers Personalized Telemedicine Across All Areas of the U.S.
Telemedicine services improve healthcare access for employees, creating a patient-centered, easy-to-use technology based on the employees' availability and needs.
With EZaccessMD, patients are able to receive quality care quickly and conveniently from the comfort of their own homes — including mobile x-rays, ultrasounds, EKGs, echocardiograms, and

in-home lab tests (such as flu, strep, urinalysis, and

COVID-19).
Board-certified physicians provide an important triage first point of contact for any patient struggling to determine the best way for their emerging symptoms to be managed.
And with EZaccessMD's telemedicine and mobile urgent care, services are provided at a lower cost.
EZaccessMD delivers personalized telemedicine healthcare across the U.S. We create 24/7 access to quality care by bringing healthcare to you when you need it.