With the onset of COVID-19, most healthcare providers scrambled to figure out how to keep seeing patients while still offering quality care. Many turned to a lesser-known platform for their health care needs — telemedicine.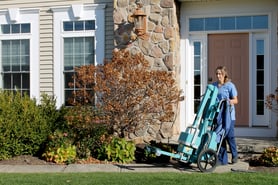 The American Academy of Family Physicians defines telemedicine as "the practice of medicine using technology to deliver care at a distance."

COVID-19 has doubled the percentage of American adults who turned to a virtual doctor instead of a traditional doctor's visit--telemedicine is expected to grow by 40.4% by 2023. This is a good thing. This trend means that millions of people will have greater access to healthcare.
No more sitting in a waiting room full of sick people; in fact, you can be sick and in bed and get the care you need by speaking with a doctor virtually. With telemedicine, you can eliminate drive time, the need for a babysitter or elder care, and the time spent waiting to find an available appointment.
Here are some basic features of a telemedicine provider:
Quick access to a healthcare provider, day or night
Medication prescriptions
A doctor follow up
Quick triage care by the telemedicine provider
HIPAA Compliant
Little to no co-pays
Not all telemedicine services provide the same level of care
While all of this creates better health outcomes for patients and employers, there is still room for innovation and growth within the industry.
One of the most glaring issues both in traditional healthcare and telemedicine providers is that they do not offer to come to a patient's home. The COVID-19 pandemic showed Americans how to get Instacart groceries. They traded eating out for eating in with delivery services like DoorDash, and they cut down drive time to stores by simply using their phone to purchase any odd or everyday item they needed.
For telemedicine to truly engage the new American lifestyle, it must be delivered to our front door and come inside our homes. Telemedicine needs to go beyond virtual doctors. It must incorporate mobile care options as well.


What complete telemedicine care looks like
Imagine getting a consultation with a doctor from the comfort of your couch. The doctor would like some testing done. Does this mean you need to drive to a healthcare facility? With most telemedicine, the answer would be yes. But with EZaccessMD, an employee or family member can speak with a virtual doctor and receive an on-site assessment and diagnostic in under two hours. The patient receives testing in the home--they even bring the lab analyzer equipment to a patient's bedside and have the results available immediately. The need to obtain a specimen and drive it to a lab to wait a day or two for results is eliminated; the lab results are immediate and in your home.
While a lot of telemedicine can only be done through a screen, aftercare is done at a later date after taking the time to make an appointment and make the drive. Or, there are immediate aftercare healthcare services that can be accessed through mobile care:
- In-home lab tests (such as flu, strep, urinalysis, and COVID-19)
- In-home X-rays and ultrasounds
- Ear, nose, and throat exams in the comfort of your home
- Mobile EKG and echocardiogram
- Accurate prescriptions from having diagnostic testing done first
For the industry to truly serve patients and employers well by creating cost-efficient and comfortable care, it must provide a service that brings wellness to a patient's doorstep.


EZaccessMD is innovating telemedicine
EZaccessMD is the only telemedicine provider offering these types of mobile services, and with no co-pays. Just like an Amazon driver bringing packages straight to your front door, EZaccessMD brings professional healthcare providers right to your doorstep, at home, or at work.
EZaccessMD offers the unique approach of joining telemedicine with mobile diagnostics. With this powerful combination, patients can receive treatment on their schedule without traveling to an appointment or sitting in a waiting room. EZaccessMD diagnoses and treats many common, acute health issues, avoiding expensive and time-consuming trips to urgent care facilities or emergency rooms. They also treat serious health events with the ability to bring X-rays, lab tests, and ultrasounds directly into your home.
Because EZaccessMD has portable medical equipment, they can diagnose and resolve health issues with fewer visits and less time spent. The overall effect of this type of personalized care is a healthier, more productive lifestyle. Make sure your telemedicine provider goes beyond a screen; make sure they can come to your front door.