It was already the trend before 2020, but with COVID-19 came a whole new level of consumers using the convenience of technology to bring their lifestyle to them. Instead of traveling out, groceries are delivered to your front door, movies can be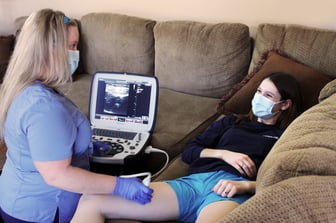 streamed through your phone, you can attend team meetings from the comfort of your kitchen table, and now you can also experience doctor's visits through the more than 80 new telemedicine services approved by the federal government.
Traditional, Incomplete Telemedicine
When people could not come into a doctor's office during the pandemic, healthcare providers worked quickly to create new options for patients to still see their doctor. Doctors began doing 50 to 175 times more telemedicine visits in 2020 than they did in previous years, and many of them had never used a telemedicine program before. Many providers threw together a telemedicine program because they had never used one before and were not prepared for a huge shift in the necessity of telemedicine to continue seeing patients.
With this necessary and quick setup, patients were able to converse with their doctor from home, get prescriptions, understand treatment options, and discuss health issues virtually. This platform allowed virtual doctors to step in and keep Americans healthy while using convenience to create safety around health visits.
Here are some of the health issues that could be easily dealt with through the type of "use-it-when-you-need-it" purpose that incomplete telemedicine offers:
Allergies
Bladder or urinary tract infections
Bronchitis
Coughing
Diarrhea
Fever
Migraines or headaches
Pink eye
Rash
Seasonal flu
Sinus problems
Sore throat
Stomachache
This blend of traditional healthcare, technology, and consumer-centered care kept many patients safe during a global pandemic. While this transformation in healthcare provided a better avenue for care, we now know that it is an incomplete model for a fully functioning telemedicine system of healthcare because there were companies already proficient in telemedicine and innovating before the Covid pandemic forced most practitioners into telemedicine services.
Truly Complete Telemedicine
Virtual doctor visits during the pandemic opened the way for telemedicine to grow and become a popular service for patients in ways much more convenient than ever before. Telemedicine visits can be much less expensive than an emergency room visit or an urgent care walk-in. According to a study published in the Journal of the American Medical Association, an appointment with a telemedicine doctor can save a patient more than an hour of time for each instance.
But, there are still medical diagnoses that require more than a conversation with a doctor. Many patients need lab tests after visiting with their providers. Some will need an X-ray or a strep test, traditionally requiring a separate appointment and a drive to a healthcare facility.
The convenience of incomplete telemedicine quickly disappears for any in-person follow-up or when further testing is necessary. Healthcare can quickly revert back to an older model of medical treatments that cost time, money, and in the reality of a global pandemic, even the patient's safety.
What is needed is a truly complete telemedicine system. A complete appointment with a virtual care doctor should include the ability to have an immediate mobile follow-up for any necessary testing to confirm the most specific diagnosis and treatment plan. What if instead of driving to get an ultrasound, an ultrasound technician can come directly to your front door!
After a virtual doctor requests lab work at the conclusion of your telemedicine appointment, a mobile diagnostic unit with a certified medical technologist can be at your home within two hours, with immediate test results. With this kind of patient-centered care, telemedicine can be a complete health system fully able to meet a client's needs in both the capacity of a virtual doctor's visit and a mobile care center catered to the patient's time and location.
EZaccessMD Provides Complete Telemedicine Care
In the crowd of telemedicine benefits, EZaccessMD is the only mobile urgent care that offers thorough and efficient diagnostic testing and imaging in the home or workplace. They come to you. Not only are they revolutionizing the way employees get care, but they also make it affordable for both employees and their employers. With portable medical equipment, EZaccessMD can diagnose and resolve health issues with fewer visits and less time spent. With these benefits, patients can live healthier and more productive lives.
Telemedicine is the healthcare system leading the way for affordable, convenient care in America. EZaccessMD leads the telemedicine industry in a fully integrated telemedicine strategy. Click here to learn more about the EZaccessMD difference.