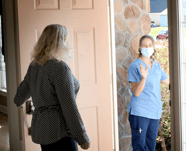 Many people wake up to a sore throat and immediately start brainstorming the source of their discomfort. Is it allergies, a cold, the flu, strep throat – what if it is COVID-19?
When you are deciding if it is safe for you to head to work with a sore throat, the best course of action is to make sure your symptoms are diagnosed by a doctor before you take any medication. Left untreated, conditions such as strep throat can have permanent, and sometimes fatal, consequences.
How to decide what to do
While a few of the options listed above can be managed with over-the-counter medications, a sore throat requires attention from a healthcare provider. Most people find it inconvenient and time-consuming to make an appointment with a doctor, take time off of work at the last minute, and drive to the doctor's office to determine the next best course of treatment.
Instead of wasting time waiting to see an in-person doctor, or spending extra money to go to an urgent care facility, telemedicine with mobile testing provides a time-saving way to get answers for diagnosing the cause of a sore throat.
How it works
Most employees wake up with symptoms before a doctor's office or urgent care even opens. With a telemedicine provider like EZaccessMD, speaking with a doctor can happen within 20 minutes of simply making a call. Often, a doctor will decide more information is needed to give a more precise diagnosis.
Since there are so many illnesses that include a sore throat as a symptom, it is highly important that a doctor orders a lab test. The doctor can also set up a mobile visit with a licensed technician at a patient's home in order to complete a rapid flu, strep, or COVID-19 test.
This information is then relayed back to the doctor, who can make a precise diagnosis and call in a prescription, if needed. The patient receives medication and is on their way to feeling better faster than a traditional visit to a doctor's office.
The importance of the right diagnosis
It is important to use a fully developed telemedicine system. According to Health Affairs, the three largest telemedicine companies fail to order a strep test in 99% of cases, leaving patients open to a prolonged or even wrongfully diagnosed illness. Lab work is especially important for a sore throat because the outcome can cause serious health consequences for many people. The bacteria that causes strep throat is highly contagious and when left untreated by antibiotics it can turn into scarlet fever.
Strep throat cannot be diagnosed simply by looking at your throat--not even by a doctor. A swab of the back of the throat is necessary to determine the cause and diagnostic plan for getting better as quickly as possible.
The sooner an employee can receive antibiotics, the faster they will heal and reduce spreading the infection to co-workers and family.
The EZaccessMD Difference
EZaccessMD helps patients quickly find out if they have COVID-19, strep throat, the flu, or allergies with mobile urgent care — the only telehealth company that provides diagnostic testing on demand in the home. For COVID-19, our rapid antigen test delivers an overall accuracy of 98% when patients have active COVID-19 symptoms.
With the powerful combination of telemedicine and mobile testing, EZaccessMD offers employers and employees treatment on their schedule that comes right to the home or workplace. Learn more about EZaccessMD benefits here.