The American healthcare system has been slowly moving toward new, technologically-advanced practices for years, but the entire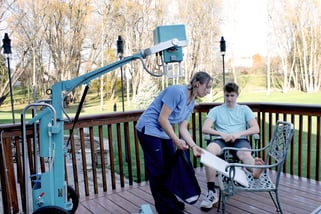 industry has needed an overall transformation for decades. With the onset of the COVID-19 pandemic, deep-rooted obstacles to these necessary changes were finally pushed aside in a matter of months.

These changes brought about virtual doctors, in-home health visits, and an entire system designed to improve patient access to quality care. Telemedicine use increased to 49% in 2020 from 11% in 2019.

What is currently missing from telemedicine
Telemedicine has transformed our ability to gain access to healthcare. Using a telemedicine doctor became common practice for many Americans during the stay-at-home orders in the beginning stages of the COVID-19 pandemic. And while this virtual connection to a healthcare provider created a whole new paradigm for doctor-patient interaction, it is desperately missing a key component for a comprehensive, fully developed telehealth program.
The key missing component? Mobile care. While a patient can have an appointment with their doctor in the safety of their own home, a telehealth provider cannot do it all — they still cannot examine a patient remotely, perform lab tests, ultrasounds, or X-rays.
Mobile Urgent Care completes a virtual doctor visit
Mobile Urgent Care combines telehealth services with clinicians that actually come to your home. Telemedicine should include a consult with a doctor who can ask for same-day diagnostic testing to be performed within an hour or two at your home or workplace.
Speaking with a doctor from the comfort of your couch is a much-needed industry evolution. The greater benefit is when that doctor can send a clinician to a home after a virtual appointment to get tests done quickly and efficiently for the patient.
The Mobile Urgent Care advantage
After an online doctor's appointment, instead of the patient calling to set up a separate appointment to drive to a facility for X-rays, lab tests, digitized EKGs, or ultrasounds, a Mobile Care Unit drives directly to the patient's house or business to provide any of the services the doctor has requested. This type of immediate care creates amazing benefits for both patients and employers:
Immediate and comprehensive "in-home delivery" care for patients

Reduced time period for test results to get back to the healthcare provider

Lower healthcare costs: with a faster diagnosis, there is a shorter illness cycle leading to a quicker recovery

Less time off work for driving to appointments creates more time to rest up and get healthy

A reduction in visits to costly urgent care facilities or the ER — places where a patient is even more exposed to other viruses and illnesses

Elimination of facility overhead expense

Increased benefit value from the employer which encourages less absenteeism and builds effective employee retention
EZaccessMD offers telemedicine with Mobile Urgent Care
Businesses engaged in the new healthcare transformation need a comprehensive telemedicine program that includes mobile urgent care. Employees are now looking for these new and innovative health systems, and EZaccessMD can help companies give them the best the industry has to offer. No copays, no waiting rooms, no hassles to access immediate care.
EZaccessMD's telemedicine + Mobile Urgent Care is the employee benefit that will build employee loyalty and help companies reduce expensive medical claims simply by offering time-aware programs that encourage faster recoveries and fewer visits to urgent care or ERs. EZaccessMD wants to help give employees the benefit they have been hoping for.