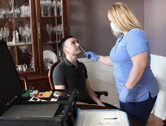 Amazon announced that a telemedicine service – named Amazon Care – had been piloted for the past eighteen months with its Washington employees.
Even though this type of healthcare benefit may feel new, healthcare companies like EZaccessMD have been offering in-home care programs for years. EZaccessMD offers virtual care in combination with in-home mobile care – and is the only company to offer radiology.
More options for mobile urgent care
While Amazon Care's pilot program includes in-home diagnostic testing, EZaccessMD provides a broader range of services. In fact, EZaccessMD can dispatch a licensed technician to a patient's home for an X-ray or ultrasound — a necessary diagnostic tool for managing severe illnesses and injuries. Amazon Care has no offerings like this.
In-home testing for COVID-19
Amazon Care can test for COVID-19 using at-home sample collection with or without a supervised professional. Results can take up to 48 hours to get back to the patient because the samples are tested at an Amazon subsidiary. From self-swabbing to sending samples away to a lab, this process leaves plenty of room for both human error and long wait times, hindering a quick treatment plan.
With EZaccessMD, patients are tested for COVID-19 in their home by a certified technician with test results processed on the spot within 15 minutes. ​The rapid antigen test delivers an overall accuracy of 98% when patients have active COVID-19 symptoms. Because of years of industry experience building a home delivery infrastructure, EZaccessMD is able to give patients the treatment they need immediately.
If a patient tests positive for COVID-19, the EZaccessMD physician will determine the best treatment plan and order any necessary treatments, and follow up three days later. EZaccessMD is the only company in the United States to offer in-home rapid COVID-19 testing to patients experiencing symptoms.
Complete care accessible anywhere in the U.S.
Amazon Care's telemedicine and mobile services are currently very limited geographically. EZaccessMD has been building access to telemedicine with mobile urgent care since 2016. Currently, its telemedicine services are offered anywhere in the U.S., and telemedicine and mobile benefits are available to all employers throughout the Midwest and East Coast in 16 states. They are always expanding their mobile care services and have much broader access to in-person care than Amazon Care.
EZaccessMD continues its legacy of leading telemedicine and mobile urgent care
With a deeper understanding of the best practices in the healthcare industry, EZaccessMD has decades of experience coming to the patient's home, on demand, with the vital component of diagnostic testing. In 2016, the company launched its employer model of telehealth benefits and continues to revolutionize the way employees get care.
If you are looking for benefits from the leading innovator in the telemedicine industry, contact EZaccessMD. We have been developing virtual healthcare for years, and we want to help companies receive the best virtual and in-home care benefits available.